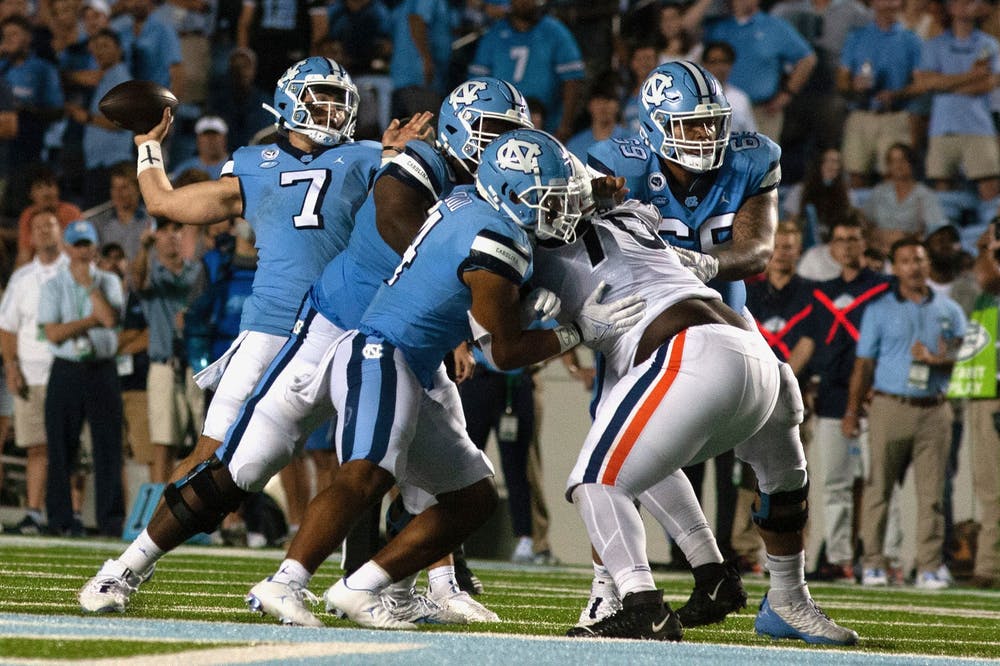 UNC Football chasing first road win of season against Yellow Jackets
After back-to-back home wins, the UNC football team is on the road for the second time this season, visiting Georgia Tech in Atlanta on Saturday night.
Carolina won at Georgia Tech in 2019 by a score of 38-22, but according to all-time records and head coach Mack Brown, that result is more of an outlier than a trend.
"Not only are we 5-6 on the road [in the last three seasons], and all the games have been very close… two of them in overtime that we lost, our record at UNC in Atlanta is 9-19, "Brown told reporters Wednesday. "So it was not an easy thing for us to win in Atlanta, for sure."
2020 marked the first year the Tar Heels and Yellow Jackets haven't met in football since 1979. The 2019 game was played in the first season of Georgia Tech head coach Geoff Collins, with the team. In the two years since that meeting, Brown said Georgia Tech has improved. After the Yellow Jackets' season opener loss to northern Illinois, they took the mighty ACC powerhouse Clemson last weekend, losing 14-8 on the goal line.
"You start to watch their Clemson game, they had a chance to win," Brown said. "And we know how much Clemson dominated this league for many years. So, [Georgia Tech has] so much improved since that opener. And their defense can really run. They have depth. They were all on Clemson's offensive.
Georgia Tech's offensive is also turning heads. One of the two quarterbacks of the Yellow Jackets is Jordan Yates. Jordan is the nephew of former UNC quarterback TJ Yates, who currently holds Carolina's record for most career passing yards. Defensive coordinator Jay Bateman said Yates is just one of many dangerous weapons in the Georgia Tech offensive.
"Yates is a kid, we watched him in recruiting," Bateman said. "The guy won a state championship. He's just a winner. Runs, plays, competes with his tail. I think they have really good running back skills, they have two really athletic quarterbacks, and I think where they've made the biggest improvement is [offensive] line."
The road trip is especially exciting for star receiver Josh Downs. Downs is originally from Suwanee, Georgia, and attended North Gwinnett High School, just outside of Atlanta. The second has scored touchdowns in all three Carolina games this season and said he will have a large fan contingent at the 71,000-seat Mercedes-Benz Stadium in Atlanta on Saturday night in hopes of seeing some. more.
"Like a kid, [I was] still there, watching the Falcons play, even though [Mercedes-Benz Stadium] is new, I was in the old one [Georgia] Dome, "Downs said. "But I went to this again, I played it when I was in high school. So it's gonna be fun. A bunch of my friends have already texted me about this, saying they're ready to see me play. My family will be there, I have family in Columbus, GA, and I have family in greater Atlanta, GA. So, I am very excited to come home.
The stadium is the largest stadium Carolina has played so far this season, and the only one with a retractable roof.
Brown said rather than being intimidated by the huge facility, he and his team are eager to seize the opportunity.
"I think [the players] will be delighted to play at the Mercedes-Benz stadium, "he said. "And one of the staff, I won't say which one, said, 'Are you worried about the weather this weekend? It looks bad. ' And I said, 'No, I got it, man. It's 72 degrees with a wind of a mile an hour, and I even know which way the wind is blowing!
To secure a road victory on Saturday night, the Carolina defense will need to improve its performance against Virginia, where it allowed 39 points and nearly 600 passing yards. And with the season opener loss to Virginia Tech, any loss to the ACC slams the door to UNC's conference championship ambitions.
Featured Image via The Daily Tar Heel
---
Chapelboro.com does not charge subscription fees. You can support local journalism and our mission to serve the community. Contribute today – every dollar counts.
Related