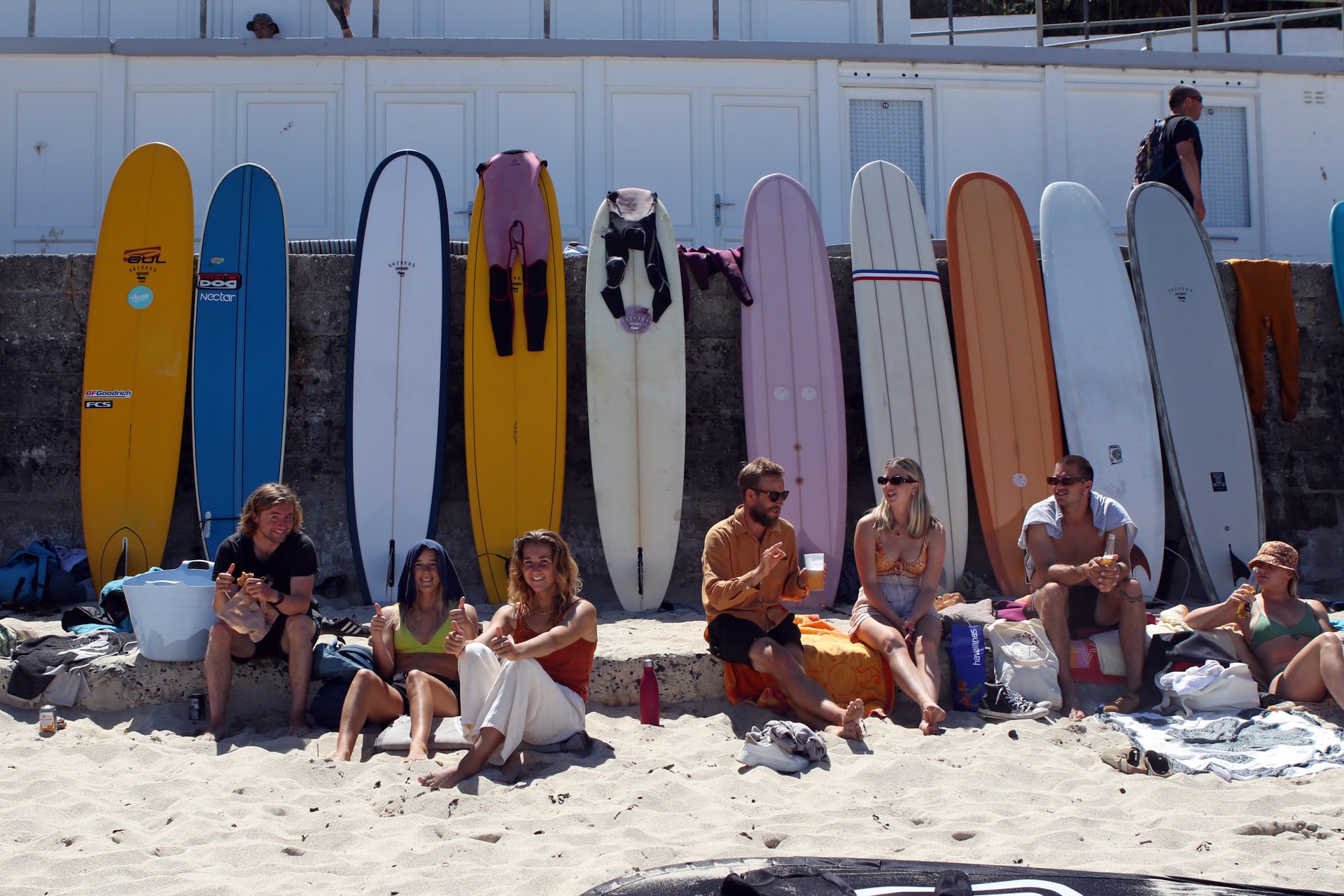 The BLU Porthmeor Longboard Classic 2022
With the Single End tapering to the pointy end and the brave and daring cast roadside by the bucket load, it was left to Elliot Dudley, Sam Bleakley, last year's winner Mike Lay and Sam Crookshanks to fight for the final honours. In a desperately close final between himself and Elliot, Mike found one of the weekend's most maneuver-filled waves to put the result beyond doubt.
Masters time. This is another division which, and with no disrespect to the surfers who came before it, will become very interesting in the next few years now that Chris Thomson and Sam Bleakley have arrived as the first wave of excellent Open surfers approaching big four-oh. Sam launched his stand early in the semis with a crushing 13.17, nearly doubling the score of every other surfer on the tour. Fate, however, has an interesting way of intervening in debates, and as the old saying goes "comes the hour, comes the man". The man in question being Chris Thomson, and the result being a 0.16 win over Sam to claim the overall Masters title after two events. Solid stuff from Chris, and it gives him the chance to put a gold leaf-covered cherry on the cake at Fistral in the fall.
To top it all off, and in a veritable race to the death between contest and tide, the Men's Open final saw the Sam Bleakley prevail in style over Elliot Dudley, Ben Howey and a little wave-weary (and sunburned) is looking for Mike Lay to give him a 1-2-3 finish throughout the weekend. Given how many waves he rode in 3 divisions, I'm slightly puzzled by Sam's fitness. I suspect he raced home in Gwenver and went for another 3 hour session….
Fantastic support as always from our wonderful sponsors – Tregenna Castle, St Ives BID and O&E, and a big thank you to Saints Boardriders for welcoming us into their amazing clubhouse and feeding and watering the judges and the support staff. A huge shout out also to the off-duty lifeguards who gave their all to keep the crowds of holidaymakers out of the competition area – a difficult and much appreciated task.
Special thanks from me and video jockey Chris Levi to Ben Hartley (@benhartley8) and Nathan Benham (@dawnpatrolphotography) for the additional media coverage, water shooting and drone work. Legends, the pair of you.
We look forward to doing it all again – hopefully with a bit more swell – at The Stable, Fistral Longboard Classic later in the year. Thanks again, Porthmeor. You were a real sweetheart.
Results
Men's Open: 1st Sam Bleakley, 2nd Elliot Dudley, 3rd Ben Howey, 4th Mike Lay
Women's Open: 1st Emily Currie, 2nd Izzy Henshall, 3rd Lola Bleakley, 4th Mali Harbor
Masters: 1st Chris Thomson, 2nd Sam Bleakley, 3rd Adam Chell, 4th Colin Bright
Grandmasters: 1st Alan Reed, 2nd Adam Chell, 3rd Colin Bright, 4th Nick Lethbridge
Cadets U16: 1st Kaz Phillips, 2nd Sylvie Puddiphatt, 3rd Ted Pearson, 4th Lola Bleakley
Girls U18: 1st Lola Bleakley, 2nd Sylvie Puddiphatt, 3rd Mali Harbor
Boys U18: 1st Ted Pearson, 2nd Blake Jones, 3rd Tobias Gwennap, 4th Joel Mew
Single drift: 1st Mike Lay, 2nd Elliot Dudley, 3rd Sam Bleakley, 4th Samuel Crookshanks