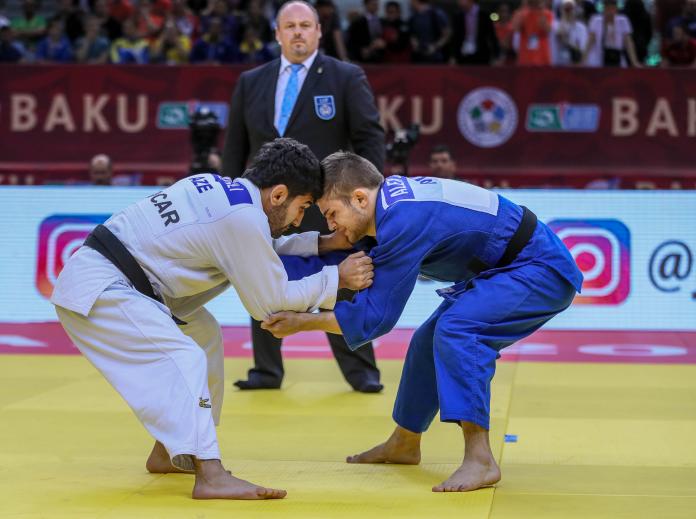 Romanians Bologa and Gergely form golden partnership in judo
The partnership between Rio 2016 Paralympic bronze medalist Alex Bologa and coach Tamas Gergely is one of the most beautiful – and successful – in judo.
The duo have been training together for almost 10 years, since Gergely helped launch Romania's Paralympic Judo program in 2012.
Bologa was one of the first judokas to be recruited by the National Paralympic Committee as a teenager that same year, and has become one of the most successful, respected and likeable athletes on the circuit. The Romanian won two European titles and several Grands Prix, as well as the Paralympic bronze.
It helps that Gergely is a former judoka himself.
"We started a project here doing blind judo and it was something new for us and I had to learn a lot," said Gergely. "But by going with Alex to competitions and training, I learned a lot from the other coaches.
"I like to train and improve Alex's judo because I see his talent and his power and he's always improving and I really like that," he continued. "Somehow it's also my personal ambition to help him be the best in his class and in a way I try to give him the things that I don't have. obtained as an athlete. I try to help him learn from the mistakes my coaches made and help him with new training techniques, of course suitable for blind judo.
Bologa is a B1 judoka, which means he has little to no vision. In addition to being his trainer, Gergely is also his guide during competitions and when traveling for two. But the partnership goes a little further than that.
"It's not only in the judo gym that we meet, we also see each other every day and spend our weekends together sometimes," said Gergely. "I also try to help Alex with the problems he has in everyday life."
© IJF
Bologa agrees and with Gergely also relaying vital information about his rivals on the mat it means he has become very hard to beat.
"When I started in 2012 I didn't know much about judo," said Bologa, who competes in the men's event up to 60 kg. "Since then I have improved a lot as an athlete and as a person.
"I liked his [Gergely's] training methods from the start and the fact that he stays calm and explains things to me. It gives me the information I need and everything I need to know about my opponents. We study a lot every opponent who can give us a problem. "
The list of these decreases with each competition. At the recent Grand Prix in Baku, Azerbaijan, Bologa beat Uzbekistan Paralympic champion Sherzod Namozov for gold for the third time in as many years.
Commenting on Baku 2021, which has seen judokas compete for the first time since 2019, Bologa said: "Being the first qualifying competition for Tokyo, it was of course very difficult, but I was very happy with the return to the tournament. carpet. I'm very happy with it especially because our preparation and our physical condition are not of the highest level because we want a peak in time for Tokyo. We are at the very beginning of our preparation for Tokyo. We have a lot of time to improve.
Now that Bologa has unofficially secured a spot at Tokyo 2020 as the world No.1, he will remain in Romania to train with the national team. This includes grueling one-hour workouts and two 12 times a week, with Gergely and the National Olympic Team.
At 25, Bologa thinks he has more to give and would like to participate in both Paris 2024 and Los Angeles 2028.
"For Tokyo, first of all we would like to win a medal there – as good as it gets," Bologa said. "Sure, most of the favorites are going for the gold, but we wouldn't be sad if it was silver or bronze.
"I am very happy to represent Romania at the Paralympic Games and to be one of the medal hopefuls. Of course there is some pressure, but now I mostly know each opponent, I have fought with them many times, so I am mostly confident to go there to fight with them. The main goal is to be in my best shape.
"It's my dream to win a medal again in Tokyo, to confirm that I'm in good shape. Of course, I will try to do my best to win again. This feeling you get when you win a medal at the Paralympic Games, it cannot be compared to anything else. "