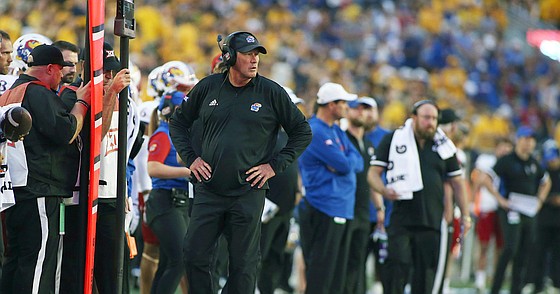 Kansas football looks for ways to avoid slow starts
Although the scoreboard showed a Kansas victory at the end of each of the past two games, KU football coach Lance Leipold knows the Jayhawks cannot expect this to continue if they can't find a way to start faster.
Down 14-0 before they could blink against West Virginia and Houston, KU managed to come out of the first two deficits to win both games on the road.
But Leipold, his coaching staff and many of his players have been around long enough to know that going to bed early like that isn't a recipe for success.
"We have to start better; there's no doubt about it," Leipold said this week. "Because one of those moments, you're not going to get over it and you can't live like this all the time."
When asked if he could explain why the Jayhawks have started slowly in recent weeks, Leipold said it was likely the result of several factors. He listed confidence and a lack of aggressive play early on in two of them.
When asked the same question, defensive coordinator Brian Borland said he was unable to put his finger on the problem.
"I don't know," Borland said. "I would love to. I know we can't continue to operate this way.
While eliminating early deficits fell more on the shoulders of the Kansas defense, Leipold said the KU offense could also do its part. Against Houston, Kansas had three outs in the game's first offensive series, giving Houston the ball with momentum just minutes into the game.
Still, Borland said no matter what the offense does or doesn't do, it's the defense's job to keep opponents from scoring and he knows the Jayhawks need to do a better job in the first quarter.
"We're trying to think of ways (to identify) what we can do in practice to help ourselves," Borland said. "And, for me, that's more attention to detail all the time."
One thing Borland felt good about, even with the slow starts, is that the Jayhawks' overall approach and scheme proved to be good.
"Once we kind of got past those first two rides, I felt like we performed better," he said.
While that reality was communicated to the players — both on game day and in practices — Borland said he was encouraged by what he heard from several defensive players in the times the Jayhawks trailed 14 dots earlier.
"I hear them talking to each other," he said. "They know what to do. They know we can play better, we need to play better and here is what we need to do. These aren't really adjustments; it is execution. It's really just settling in, playing with poise, regaining your composure and just playing.
After two weeks on the road, the Jayhawks return home this weekend to face undefeated Duke at 11 a.m. Saturday at David Booth Kansas Memorial Stadium.
The game was sold out – the first since 2019 and the second in almost 13 years – and it will be televised on FS1.