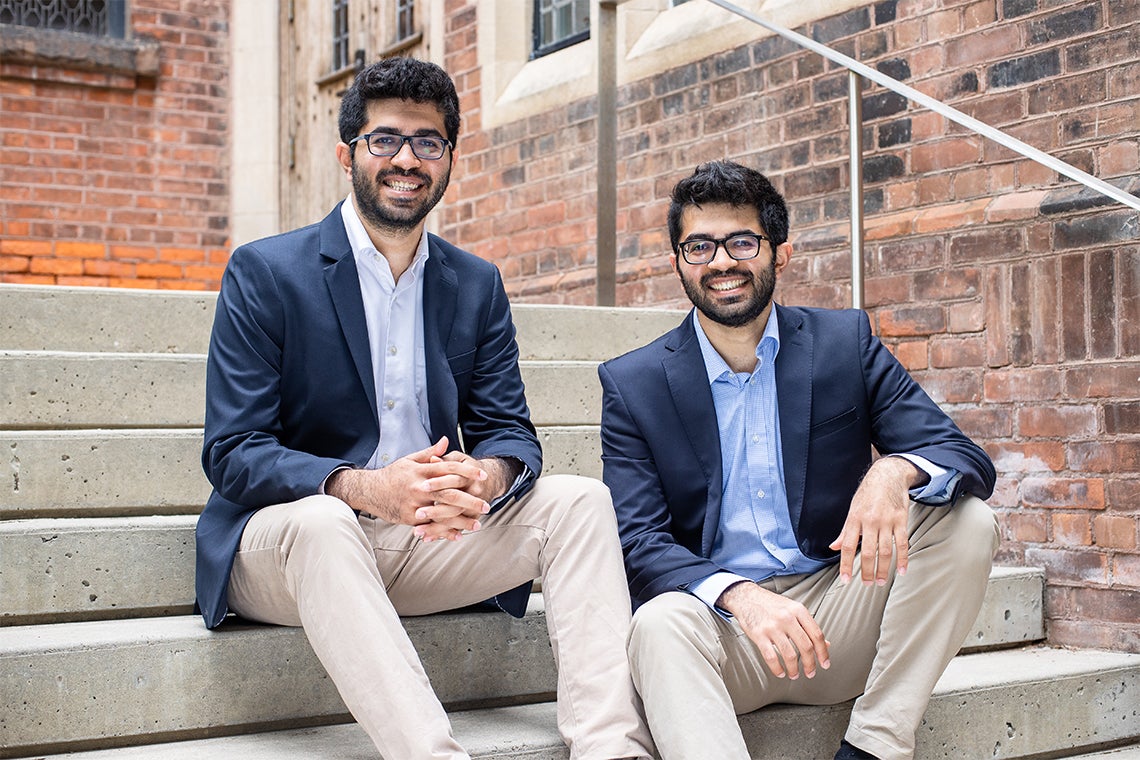 In the MBA program, the twin brothers prepared for success – and discovered what makes them unique
In many ways, the brothers Nakul and Nishul Juneja live up to the stereotype of identical twins.
They wear similar rectangular glasses and often finish each other's sentences. They completed the same undergraduate program at the Georgia Institute of Technology, then both worked at Hershey Company headquarters as analysts. Today, they reached another milestone together: graduating from the University of Toronto's Rotman School of Management with a Masters of Business Administration.
While the Juneja brothers have a lot in common, they have strived to express their individuality. In their courses, they discovered a similar problem in the world of marketing: when an almost identical brand exists in the market, how to stand out?
"People assume we have the same view of everything, but sometimes it's very different," says Nishul. "It was our experience at Rotman that helped us understand how to identify and leverage our personal strengths."
The brothers planned to go on different paths after graduation. Nakul was to join consulting firm McKinsey & Company as a partner, while Nishul was to become a senior product manager on Amazon's advertising team. While they grew at the same pace at Rotman — taking nearly all of the same classes, joining the same clubs, and both interning at Amazon — they also got to experience what made each of them unique.
While spending time with Nakul, it becomes apparent that he enjoys experimenting with new things, despite being more introverted than his brother.
While Nakul had never worked in consulting before, it was one of his long-time goals to try. During the MBA program, Nakul learned that his strengths lie in strategy and international management. One of the highlights of her time at Rotman was participating in a mental health case competition with the Center for Addiction and Mental Health (CAMH) and the Rotman Management Consulting Association.
"I found an appreciation for consulting work across different industries and discovered the impact I can have on people and organizations through my work," he says.
Like his brother, Nakul also considered joining Amazon full-time after graduation. During his internship after his freshman year in the MBA program, he helped create an internal software product designed to track employee engagement. While he liked the stimulating environment there, he decided to pursue his goal of working in consulting.
"I am delighted with this new chapter in my career," says Nakul. "McKinsey works with global companies on complex issues where I can really apply learnings and frameworks from the classroom, from negotiation to international business."
Nishul also thrived while interning at Amazon and accepted an offer to return there after graduation. He saw that the opportunities within the company aligned with his own long-term career goal: managing diverse teams and ultimately becoming a leader in a global company.
"Amazon is probably the most customer-obsessed company in the world, and that fits well with my desire to become a customer-obsessed manager," Nishul says.
Nishul held an executive position with the Rotman Marketing Association, where he served as Vice President of Industry Relations and Finance. When a series of case competitions didn't work the brothers way, Nishul and Nakul vowed to each other to step up their game.
"We entered as a two-person team in the Brewery Case Competition, hosted by the Rotman Beer Association, where you partner up with a local brewery and try to solve a business problem for them," says Nishul. "We were with Lost Craft Brewery, and we spent three days working on their business problem…and trying out a bunch of their products."
Facing fierce competition, the brothers still managed to grab third place.
"Everyone wants to do everything. There are a hundred different things to try during an MBA program and it really is like drinking from a fire hose," says Nishul. "I tried to find the two or three things that really mattered to me."
Nakul and Nishul say they learned a lot at Rotman, including strict time management and sharp negotiation skills that will serve them well in their careers.
Nishul, who started the program with his brother in the fall of 2020 as the world adjusted to the COVID-19 pandemic, said going to school at such an unusual time was a "life changing" experience. his life".
"We are now entering a world where everything has changed, and we have the right skills to succeed in this new world," he adds. "In the business world, we are seeing new regulations and a strong push towards e-commerce and international trade – all of these things we learned in depth at Rotman."
For Nakul, it was the warm and welcoming community he found in Toronto and Rotman that marked him as an international student.
"It is the most familiar [and] unknown place that you will never see. Your classmates are there for you. The school is there for you," he says. "It can take some getting used to, especially for more reserved people, but once you get here you'll see there are opportunities for everyone."
Nakul and Nishul are now ready to embrace the world separately, together.
"We came to Rotman to grow our careers and meet great people, and we're leaving with so much more than that," says Nakul. "We now have the knowledge and experience to help us succeed in an ever-changing world."
"Getting a refreshing perspective on the world, working with students and faculty from diverse backgrounds – it makes you see the world differently than before," Nishul adds.
"It changes the way you see problems, the way you behave, and ultimately who you are."
Read more about the Juneja brothers in Yahoo! New