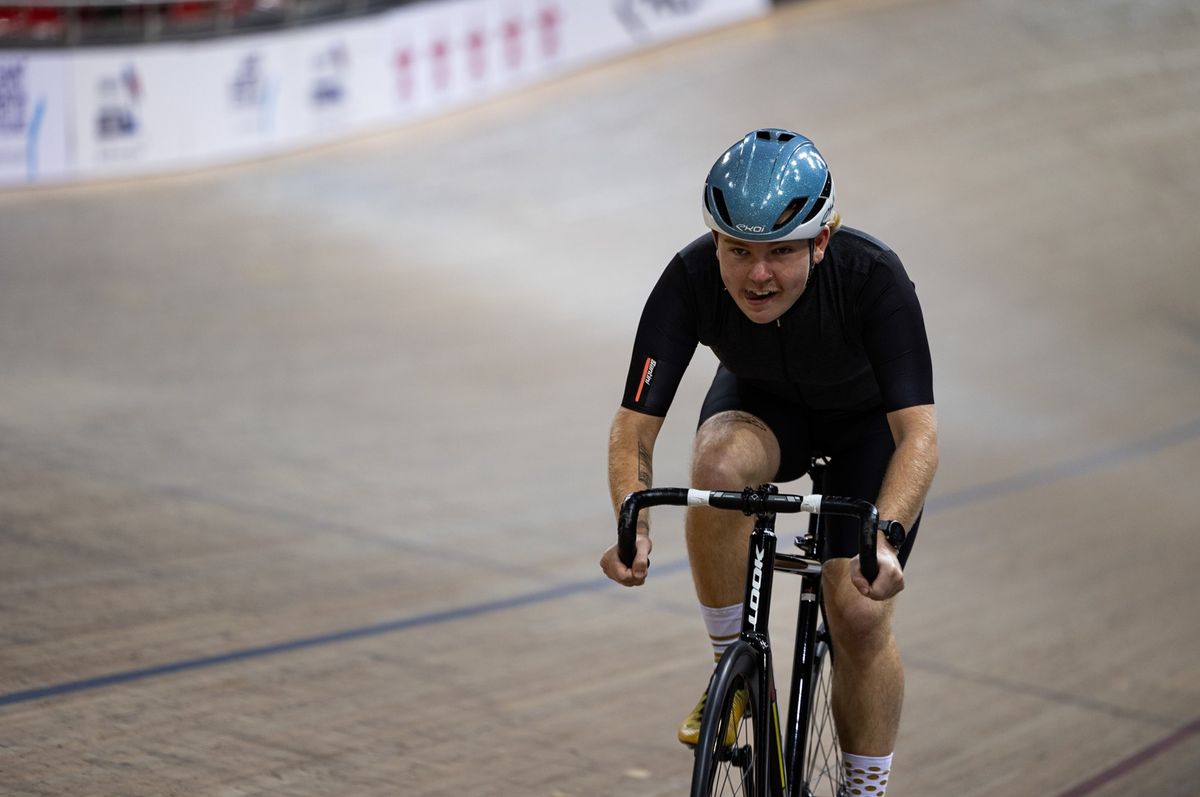 From Zero to Hero: A budding cyclist tries out a riding track for the first time
I've been to velodromes before, of course. I've been inside the Stab velodrome in Roubaix, and the Olympic velodrome in London too, but I've never been on the track before. I also cycled on Herne Hill, but again, it's quite different from the dizzying slopes of the interior planks I'm in front of here in Saint-Quentin-en-Yvelines.
It helps to have Sir Chris Hoy, one of the most successful track cyclists of all time, by my side to give advice and tips before I hit the track.
"Keep pedaling," the six-time Olympic gold medalist tells me, which is incredibly helpful, considering I was just planning to coast around the 250m of woods in front of me. "I was telling someone earlier not to stop pedaling, but it's too negative," he adds. "Instead, be more positive, keep pedaling."
Of course, it's a fixed-gear bike that I'll be racing on the track; I will literally have to keep pedaling or I will fall.
The next piece of advice is just as rudimentary: "Keep breathing! I must admit that I was hoping for more.
My session at the Vélodrome national de France, host of the World Championships this year, and which hosts the Olympic events of the next games in 2024, will consist of a few warm-up laps around the track, trying to gain height. , and then a quick spin to wrap up, once I get the hang of it, once this whole spinning thing starts to make sense.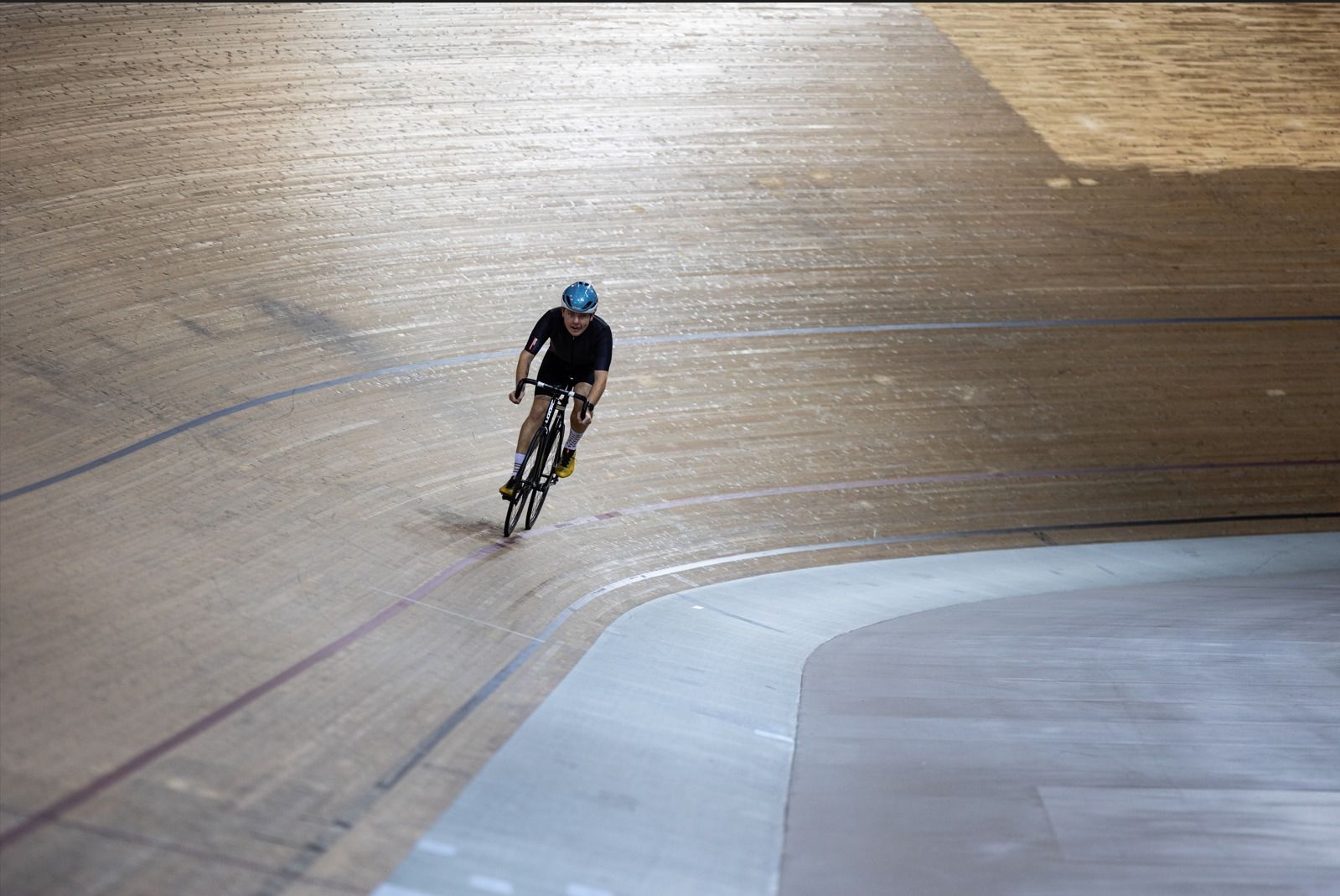 There's a piece of advice Hoy told me that I'm sticking to, for use in the flying trick – to squeeze the black line as close as possible; there's no point in going uphill when you're against the clock, as it only increases the distance you have to cover.
First, we are shown how to clip into the bikes. This piece is easy for me, a clipless veteran, I even brought my own shoes with Look cleats on them; I'm ready for this piece. The Spanish journalists in front of me seem a little more unstable, so I already feel confident. I am not a complete novice.
Pedaling a fixed-gear bike is tough for an endurance rider like me, used to a whole range of gears to get me started, and freewheeling ability thrown out the window. The first lap goes reasonably well, following the wheel of the person in front of me, getting used to the feeling of shifting gears.
Suddenly, a member of Australia's world champion team sprint team, Matt Richardson, passes over the top of the oval; it's real speed, something I can't even understand.
I'm starting to notice some of the people at the front of my training group hitting it head-on, led by the trainer, Charlie, and I realize that some people have been singled out as superior by the session leaders , which I strongly feel I should be part of.
I go as hard as I can in hopes of being noticed by the Frenchman running things, and within a few laps I'm told to follow Charlie; they understood that I am strong after all. Joy at last.
I was never picked first during PE in school, but here I am, being singled out as someone good enough to get to the top of the track. Cheers.
After the outrage at not being selected first, I'm determined to do my fast lap well. Even Charlie believes in me now, I think, although because of my limited French it's reasonably difficult to understand what he's saying. I think he knows what he's dealing with, though, that mustachioed, mule boy with a silly little earring suddenly thinking he's some kind of Ethan Hayter.
I have some concentration time between training and the start against the clock, that's when Hoy's advice comes to mind: breathe and pedal. I may have this.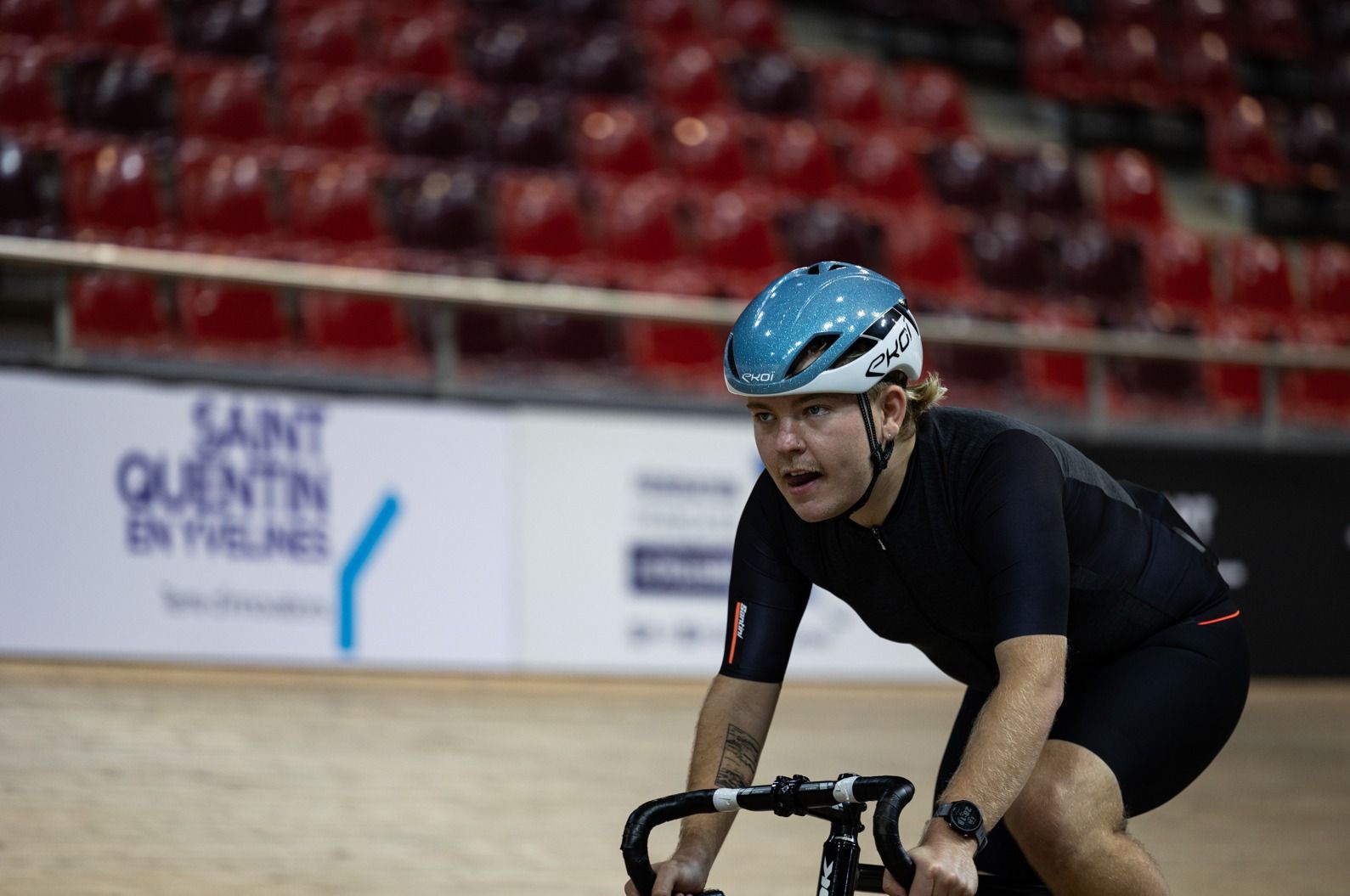 The turn goes by too fast (and not fast enough either). I get two warm-up loops, then the big one. I miscalculate where the timing actually starts and get off the bank too soon. Who knows, I could have broken the world record otherwise.
I go as hard as I can, and it's over before I can even think. Charlie tells me I did well, which is more than good enough for me, but I don't think anyone at British Cycling should give it much thought. I'm not bad, but I'm good, like most other types of cycling I guess.
The data shows that I maxed out at 46.6 km/h, which sounds impressive until you compare it to Richardson's 74.92 km/h. Likewise, it managed a maximum of 1609 watts while I could only peak at a paltry 411, practically a quarter of its power.
To add insult to injury, my heart rate jumped to 200 bpm, while his only hit 194. You can see why he's a world champion and I'm not. Bottom line, that's why I did the trick in 15.45 seconds, when he could smash it in 9.61.
He quickly vomited into a trash can, which I didn't. Obviously, I didn't push myself hard enough.
Although I didn't beat all comers, I loved the trail. The feeling of speed and effort is hard to replicate on the road and is a practical option if it's particularly dark outside. I'll be heading to a velodrome closer to home as soon as possible to try it again, but don't expect me to win any international competitions anytime soon, unlike Richardson.
The UCI Track Champions League continues on Saturday November 18 in Berlin and can be watched on GCN+, Eurosport and Discovery+.