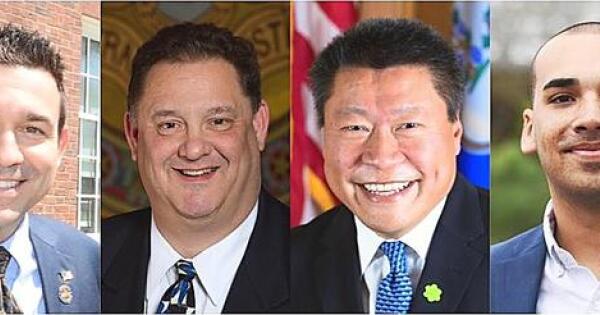 Following Budget Passage, Newtown Delegation Highlights Achievements
HARTFORD — Connecticut lawmakers closed out a legislative session like none other on June 9, with the state Senate approving a two-year, $46.3 billion state budget that proponents said will help Connecticut in its continued recovery from the COVID-19 pandemic while beginning to address some longstanding inequities in the state.
Legislators wrapped up their work shortly before midnight that evening with deliberations leading up to the final moments as House and Senate members flooded the statehouse chambers — a rare sight this session, given the strict COVID-19 protocols.
As in the House, there was bipartisan support for the budget in the Senate, where the bill passed 31 to 4. Shortly afterward, Democratic Gov Ned Lamont said he would sign it into law, calling it the "most progressive, transformative, and life-changing budget our state has ever seen."
The new fiscal year begins on July 1.
That June 9 vote marked the culmination of an unusual and challenging session, where the state Capitol was closed to the public due to COVID-19 restrictions and staff and legislators were forced to rely on Zoom meetings to get much of their work done, including committee meetings and public hearings. Besides dealing with the devastating impacts of the pandemic and its continuing challenges, the General Assembly was also under pressure to pass a budget that addresses the state's racial and economic inequities in the light of the police killing of George Floyd in Minneapolis.
"This is a budget, I think, to celebrate," said Democratic Senate President Pro Tempore Martin Looney of New Haven. "It is one that puts us in a position to meet the needs of the state of Connecticut. I think it reflects the fact that Connecticut has an obligation to help people who are in need and struggling. Government needs to be a partner and friend."
While the General Assembly was able to pass a new budget before the midnight adjournment June 9, a bill legalizing the adult use of cannabis was not going to make it in time.
Democratic leaders of the House of Representatives then said they would take up that and other bills in a special legislative session. Their decision came after Republican House members who opposed the legislation were expected to run out the clock by continuing to debate the bill until the legislature's deadline.
Despite their concerns with the marijuana bill, there was some GOP support for the budget deal that Democratic legislative leaders reached with Gov Lamont. Twenty-two House and eight Senate Republicans voted for the bill, some lauding it for not increasing taxes, something progressive Democrats had sought early on in the legislative session to address longstanding racial and economic inequities.
The new budget benefits from a massive infusion of federal COVID relief funds, including $2.28 billion over two years from the American Rescue Plan, and an improving state economy that has led to historic tax collections. It boosts funding for local education, nonprofit agencies, nursing homes, college scholarships, health insurance programs, municipal aid, workforce development, group homes, housing, summer camp and learning opportunities for children, and expanded day care slots.
Governor Ned Lamont opposed the tax increases included in the Democrats' original revenue package, such as a new "consumption" tax and a capital gains tax on higher income residents, a so-called "mansion tax," and a tax on digital advertising, arguing they could stymie the state's economic recovery.
"I think this is an incredibly important transformative budget. I think it makes a big difference in people's lives, especially the lives of people who've been hardest hit by the pandemic, especially in the lives of Black and brown people, the likes of which hasn't been done for 30 years," Lamont said. "And I think you're finally getting it done right now."
Lamont said he's also pleased that the House and Senate finally passed legislation that generates new revenue for transportation projects. Both chambers approved on June 8, along party lines, Lamont's mileage-based "highway use" fee on tractor-trailers to help shore up the state's financially troubled transportation fund. Republicans argued the fee is unfair to local trucking companies and will lead to higher prices for consumers, accusing Lamont and the Democrats of being disingenuous when they say no taxes will be raised.
Truck Tax Opposition
That new highway use tax on trucks was strongly opposed by Newtown State Reps. Mitch Bolinsky (R-106) and Tony Scott (R-112), backing food and trucking industry advocates who believe the tax will severely increase the costs of goods and services in Connecticut.
"With inflation on the rise, the prices of all goods are increasing and forcing people to stretch their budgets even more," said Bolinsky. "This truck tax will be another financial hit to working families in Newtown and will — without a doubt — be passed along to the consumers, further causing economic pain."
"The Newtown Legislative Council made their thoughts known on tolls or any other user fee collected from drivers," Scott said. "They were against it, and I'll continue to be against it as long as I'm a member of this legislature."
The plan from the majority Democrats in the legislature was expected to raise $90 million annually.
In order to address declining revenue in the Special Transportation Fund, Scott said the Trumbull Delegation and their Republican colleagues provided an alternative in an amendment: transferring $320 million in motor vehicle related sales tax revenue from the general fund to the STF that is used for road and bridge repair. The STF could dip below $100 million by the end of this fiscal year and could be depleted in 2024, the GOP lawmakers stated.
But Democrats rejected the STF proposal (LCO 10534) in a 94 to 53 vote.
In other matters, and to better support students with dyslexia, Bolinsky strongly supported a proposal to implement the recommendations of the Task Force to Analyze the Implementation of Laws Governing Dyslexia Instruction and Training. That legislation, HB 6517, received unanimous support in the House of Representatives.
"I am so grateful for the work of this task force, born of legislation that I introduced and pushed — along with the support of the legislature's Education Committee in the 2019 session," the Newtown lawmaker said. "That proposal resulted in Special Act 19-8 and now, thanks to the work of the Higher Education Committee and concurrence of the House and Senate, will be implemented and strengthened by the establishment of a state Office of Dyslexia and Reading Disabilities to formalize, enable and enforce a robust program of early detection and proven educational supports."
For students with dyslexia, Bolinsky said effective early detection can keep them from falling behind.
"It's incredibly important to recognize that students with common dyslexia simply learn differently and, with early intervention, can flourish." Bolinsky said. "This can be a game changer. More than 2,000 Connecticut students were diagnosed with dyslexia during the 2018-19 school year, and 80% of students identified as having learning disabilities have dyslexia.
Bolinsky, who is a long-time member of the Education committee and Dyslexia advocate, said "Learning to read is a fundamental to educational success and this will benefit so many with improved training for teachers and a more structured literacy course of study."
According to the Task Force to Analyze the Implementation of Laws Governing Dyslexia Instruction and Training who testified in favor of the legislation, 15-20% of students display symptoms of dyslexia and teachers are not receiving the appropriate training in structured literacy.
The new office will begin verifying whether existing teacher preparation programs are compliant with existing laws for dyslexia detection, recognition, and evidence-based, structured literacy interventions; and for required supervised practicum hours, student teaching experience and instruction in evidence-based structured literacy interventions for students with dyslexia in programs of study for remedial reading, remedial language arts, and reading consultants or special education.
The bill requires the state Department of Education, by January 1, 2023, to provide guidance to local and regional boards of education about administering the approved reading assessments and makes changes to the assessments' methodology for identifying these students.
Other Legislative Business
On June 7, Bolinsky was hailing the passage of his life-saving measure which requires back seat passengers in a motor vehicle to wear seat belts.
"When it comes to being unbuckled in rear seats, particularly in larger vehicles, fatality rates are considerably higher for everyone in the vehicle, even buckled front-seat occupants", said Bolinsky, who works as a driving instructor when he is off session. "When crashes occur, back seat passengers that are not restrained can become human missiles. Not only do they have a greater risk of being ejected, but they often are thrown into buckled front-seat passengers, causing serious and sometimes fatal injuries."
According to data from the National Highway Transportation Safety Association (NHTSA) unbelted rear seat passengers are three times more likely to die than those who are buckled at the time of a serious impact.
Bolinsky had pursued this legislation for several years, usually running out of time at the end legislative sessions — but he never gave up on this common-sense opportunity to save lives. The measure was widely supported by the likes of the American Automobile Association (AAA), the National Highway Traffic Safety Administration (NHTSA) and the Connecticut Department of Transportation.
In late May, Rep Scott joined colleagues in passing a bill which would legalize and regulate sports betting and other forms of online wagering in Connecticut. Scott, who spoke on the floor of the House shortly before the bill was passed, thanked lawmakers and the state's tribal partners for their part in the negotiations leading up to the bill's passage.
"I was pleased to see progress through collaboration between all parties in reaching this agreement," Scott said after the vote. "Many states already offer some form of regulated sports wagering, including our neighbors in Rhode Island. Whatever we can do to ensure that Connecticut competes on this playing field nationally while looking out for consumers, I'm happy to support it."
Passed by a 122-21 margin in the House, the bill formalizes negotiations between the state of Connecticut, the state's two tribal nations, and the Connecticut Lottery to update the state's gaming laws allowing fans to place bets on sporting events, as well as participate in other forms of online wagering. Scott, a member of the Public Safety Committee, questioned the chair of the committee regarding consumer protections in the bill, including revenue set-asides for problem gaming and periodic reminders for how long a user has been online.
"We need to strike a fine balance with regulations that protect consumers without placing too many limitations on the service. The main point of this legislation is to lower the barriers to entry for consumers to participate on their mobile devices. But that shouldn't be at odds with providing a lifeline for problem gamblers, and I'm glad the proponents sought to find that balance," Scott said.
The bill would have the two tribal nations contribute $500,000 each towards problem gambling in Connecticut, while the Lottery increases its contribution to $3 million.
Also in late May, State Representative Raghib Allie-Brennan, whose Second District includes hundreds of western Newtown constituents, spoke on the floor of the House in strong support of HB 6666, An Act Concerning the Department of Public Health's Recommendations Regarding Various Revisions to the Public Health Statutes. A release from Allie-Brennan pointed out that a particular provision of the statutes was detrimental to the hairdressing industry.
When evidence of human trafficking was found in the nail salon trade, Connecticut added a provision requiring the licensure of nail technicians and estheticians. But an unintended consequence led to state licensed hairdressers having been stripped overnight of their ability to remove facial hair, a skill they learned in beauty school and included in their licensing provisions.
HB 6666 restores a hairdresser's ability to remove hair from the face or neck using manual or mechanical means.
"Last summer, one of my constituents, Mary Straniti Thompson of Bethel and owner of Smoke & Mirrors Salon in Newtown, brought the licensing issue to my attention and I knew it was something we needed to address this year," Allie-Brennan said. He and Straniti Thompson provided testimony in support of HB 6666 at a late March Public Health Committee public hearing.
While it is typical that most cosmetologists limit their work to hair, there are others who rely on waxing, esthetics, and makeup services to support themselves.
"As the state opens up from the pandemic, this legislation is critical to business owners who wish to add services that might help them recover from economic losses due to COVID-19," said Allie-Brennan, who worked closely with Public Health
Committee Chair Rep Jonathan Steinberg and the state Department of Public Health in rectifying the licensing issue with this legislation.
HB 6666 passed with overwhelming bipartisan support and was sent to the Senate for consideration.
This report contains reporting from the staff of CTMirror.org, the website of The Connecticut Mirror, an independent, nonprofit news organization covering government, politics, and public policy in the state.
Reach Associate Editor John Voket at [email protected]
Newtown's state legislative delegation, from left, Rep Tony Scott (R-112), Rep Mitch Bolinsky (R-106), Sen Tony Hwang (R-28), and Rep Raghib Allie-Brennan (D-2), worked together with Governor Ned Lamont's office and Newtown First Selectman Dan Rosenthal to secure a $2.6 million grant allocation for the Sandy Hook Permanent Memorial as the 2021 legislative session wrapped up late Wednesday, June 9.