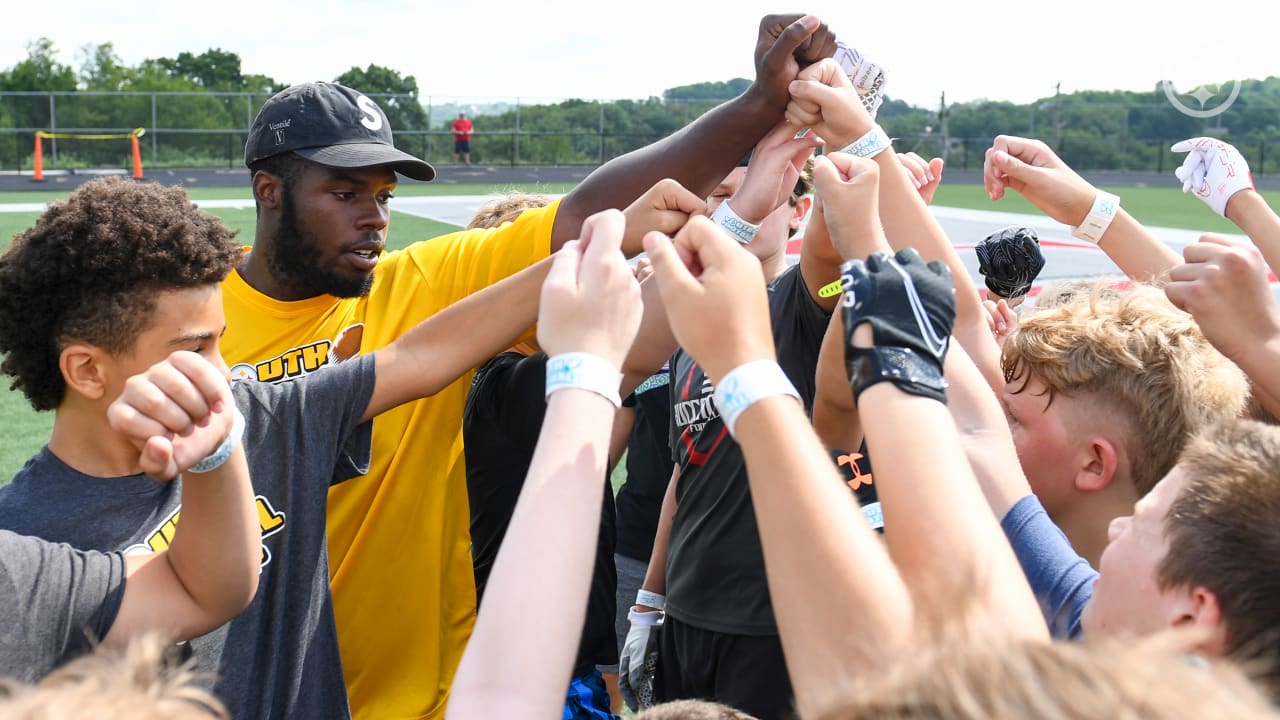 Expanding the reach of youth football
It all started small, with hopes of hosting a youth soccer camp in the Pittsburgh area to help kids learn the proper skills and values ​​of teamwork.
Today, the Steelers Youth Football program has become something no one could have imagined. Not only do they reach children throughout the Pittsburgh area, but also children across the country, and assist area coaches in an effort to make the game safer for everyone.
Over the summer, the team held three youth football camps, with instruction from former High School Coach of the Week winners as well as a mix of current and former Steelers players, including Tyson Alualu, Christian Kuntz, Pressley Harvin, Henry Mondeaux, Kevin Rader, Charlie Batch, Terence Garvin, Chris Hoke, Arthur Moats, Shaun Suisham, Vince Williams and Craig Wolfley.
"It's crazy. Our first camp was in 2009 and we started with just one," said Steelers head of youth football and player relations Mike Marchinsky. "The goal at that time was to have camps in the communities north, south, east and west of the city to get those kids out of those cities. Fast forward to 2022 and we have kids from about 26 states represented. It's kind of overwhelming when you think about the purpose was just to be in those neighborhoods and now it's Steelers Nation.
"For our youth camps, we have 600 kids and a waiting list of over 200 kids. It's great. It gives a good idea of ​​why they come to camp and it's a great experience. It's a credit to our high school coaches who make sure the kids come by and have a good time and our current and former players who spend time with the kids. it's not an autograph session it's teaching and learning and the guys hanging out with the kids while doing it for sure it's a fun experience playing football I think that's why this lends itself to being such a great experience."
Batch has been a regular at youth football camps since their inception, understanding that he was once that kid who wanted to learn from the best, so he wants to lend his hand in any way he can.
"When you have this type of camp, kids are eager to learn," Batch said. "You want to teach them everything we know, but at the same time give them something tangible to take back to their teams that can help them be number one, personally with their individual goals and obviously the team goals. We We're just trying to make sure they leave better than they came in. And have fun at the same time.
Batch took that fun to the next level this summer when he stepped in as quarterback for a flag football game at one side, quarterbacked for both teams in a game that ended in a score of 77-70.
"It was one of those games that kids would drive," Batch said. "They were ready to play. I think it was going to be the highest-scoring game in Steelers youth camp history.
"The key was that it was fun and they were learning. It's so important for the Steelers to do this because the kids have the chance to be around us and form relationships. We're able to tell stories. 'story. We tell them, we were like them, eager to learn. Whenever you're able to not only do the camp, but the way the Steelers rotate them and try to go to different regions now, you can reach everyone and not just be centrally located in downtown Pittsburgh The beautiful thing is that there are so many people who come from out of town and want to make it part. I love this element."
The team also held daily youth soccer programs during training camp at Saint Vincent College, with two youth soccer teams taking part in a daily skills clinic, then forming a tunnel to accommodate players on the pitch as they head to practice. session.
"No one is better equipped than the Steelers to have these programs, and where better than the hallowed grounds of Saint Vincent College where the team has come for over 50 years," Wolfley said. "The Steelers have always been a community group that sought to improve the community in which they found themselves. And that's exactly what youth programs do.
"It's so important to have the fundamental first processes in place so that these young children can go out and enjoy fantastic, great play. And they make it safe all the time. To be able to do that, you need people who know what they're doing. They know how to communicate what they're doing, and then be able to have enough joy in their hearts to expound that with young children and just engage in what's fun. It has to be fun in addition to being able to play the game."
Wolfley said he loves the educational aspect as much as the kids love to run and play.
"I love it. It's a chance for me to get my coaching yayas out," Wolfley said. "Being able to give the kids a bit of life. Being able to show them a bit of what professional football life is about. And then just being able to enjoy those back and forth with the kids that lets them know we're real.
"We see kids coming back year after year for these events and they grow every year in their skills and their love of the game. I always try to share the joy I have for football with them and I just try to be real with them. and above all encourage them."
It's a time of growth for children attending camp, and they're very impressionable, so making a good impression is paramount. If the message is not delivered correctly, it is not heard.
"I think about what I wanted to learn when I was their age," Batch said. "You don't want to talk over their heads, but make the game simple and get them to understand the basics. When I deal with quarterbacks, and young quarterbacks at that, you explain that even if they can run a different attack when they play, what I'm going to teach you is a three-step and five-step drop, those are things, no matter what level you're playing at, you're going to have to do. We also make sure that parents watching can learn from these exercises and continue to work on them even in the garden. These are things that I am passionate about."