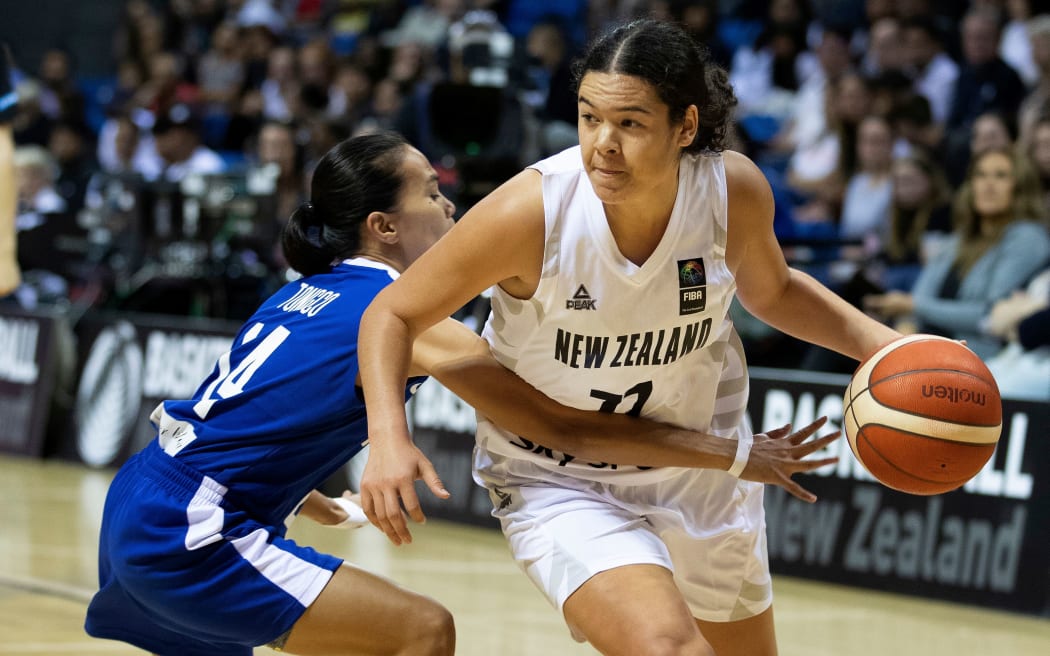 European basketball team cancels Tall Ferns tour
Basketball New Zealand thought they had landed a slam dunk.
Four international teams from Europe, North America and Australia traveled to New Zealand this month for a series against a Tall Ferns. team that hadn't been on the pitch for 12 months.
But the European side en route to the World Cup offered a late block, thwarting the tournament when it was decided a stop in New Zealand was no longer possible.
Tall Ferns coach Guy Molloy said when one team pulled out it created a "domino effect" which left Basketball New Zealand searching for replacement competition.
Instead of three international teams at home, the Tall Ferns will face three national teams in Australia next month.
The fact that the team gets matches is due to Molloy's links with the WNBL in Australia, where he first coached from the late 1980s to the mid-1990s and then again for 10 seasons from 2013 .
Calling on his contacts, Molloy helped the Tall Ferns secure games against WNBL teams – the Southside Flyers, Melbourne Boomers and Bendigo Spirit – over four games from October 15-24.
"Luckily the teams were quite hungry as they are in pre-season and on our tour they will be three weeks away from the start of their professional season.
"These three WNBL clubs play in one of the best women's leagues in the world, so this tour will help us lay the groundwork and give a ton of additional experience to our players, especially our emerging talent."
Not the international opposition Molloy had hoped for, but he'll take what he can.
The Tall Ferns' last campaign was a fifth-place finish at the FIBA ​​Asia Cup 2021 and Molloy said it was vital the team played against quality competition this year with qualification for the Games 2024 Olympics on the horizon.
"We were much later in the starting block in terms of our preparations than we would like," he said.
Covid, combined with the geography of New Zealand compared to other major basketball nations, had given the Tall Ferns limited opportunities over the past 24 months.
"The tyranny of distance has always been a problem for us, and generally we benefit greatly from any international competition we can play against.
"We certainly struggle to get the volume of international competition that we need because it's obviously a very expensive exercise, so when they come to New Zealand to play that's perfect, but with this tournament failing, we had to make other plans.
"The FIBA ​​Asia Cup in July 2023 is our supreme qualifying event ahead of the Olympics, so having this tour in Australia means we can go into next year with an international competition under our belts."
Molloy is currently in Sydney for the FIBA ​​Women's Basketball World Cup, exploring what's happening on the international stage and envisioning a future where he can unleash new talent.
One of the 12 players named in the Tall Ferns for the Australian tour who may not be familiar to New Zealanders is Pania Davis – a 6'6″ center who plays in the NBL1 West Division in Perth.
Although Davis has lived most of her life in Australia, she has Kiwi parents – and Molloy said she was a "really good catch" for the Tall Ferns.
Molloy thought the 19-year-old Davis might be the greatest athlete to ever play for the Tall Ferns.
She came on Molloy's radar at the suggestion of Southland Sharks coach Rob Beveridge.
"Girls that size aren't abundant in New Zealand, so we're hoping to see some exciting things from her as a player of the future.
"Usually we are undersized when we play at international level – with athletes like Penina [Davison] and Kalani [Purcell] having to take on the workload for us at their lowest in the past – and with no players available for this trip, it's a great opportunity for Pania to show us what she can do in this position."
The squad includes several familiar Tall Ferns in Micaela Cocks (141 caps), Stella Beck (47 caps) and Charlisse Walker-Leger (27 caps at just 20), as well as Ash Taia and Lauryn Hippolite – both of whom won their young lady. caps during the FIBA ​​Asia Cup last year.
With seven new players on the team, Molloy appreciated the balance between age and experience and expects veterans to play a mentoring role.
For Davis and the other rookies on the team, Molloy is keen for them to understand and adapt to the level of competition they will often face in international play.
"The speed of competition, the size of the athletes you're playing against, it's all increased from what some of the younger players have encountered at the national level, so it's important to acclimate those athletes to the caliber of player that they will be playing against.
"And then it's also about building our methods and our team culture so that we are better prepared to face our opponent. It's typical of a Kiwi basketball team – the Tall Ferns in particular – that we have to rely on teamwork rather than individual talent and on hustling and trying harder than the other team.
"We've tried to make a big push over the past few years to develop our own style of play, a style that focuses on player skill – and I'm really looking forward to that."
Among the 12 athletes selected, nine of them played in the inaugural season of Tauihi 2022 in four of the five teams.
"It says a lot about the importance of this league in the future, not only as a national competition, but also as a route to the national team and beyond."
The Tall Ferns Team: Ash Taia, Charlisse Leger-Walker, Gabriella Adams-Gavet, Jazzmyne Kailahi-Fulu, Kendell Heremaia, Lauryn Hippolite, Lilly Taulelei, Micaela Cocks, Olivia Berry, Pania Davis, Parris Mason and Stella Beck.